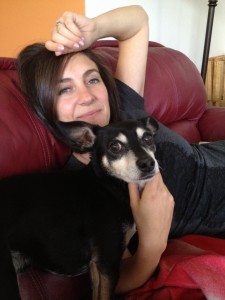 Author
Hello! My name is Michelle Faciana, and I am the author of Snickers' Day Out. Snickers' Day Out was released in March of 2010 after eight months of preparation. What started out as a fun poem, turned into a fun and colorful children's book, with the help of my illustrator, Chip Street.
I was born and raised in Virginia until my family moved to Ohio, where I attended high school. I received my B.S. in Early Childhood Development from The Ohio State University, as well as my Masters of Early Education. I have always enjoyed working with children and was fortunate enough to find a home working with first graders after graduating! After spending two years in the classroom reading and listening to numerous amounts of children's books, my husband helped me get started with the idea of writing my own book! I love seeing and helping kids learning to read and witnessing them exploring pictures. It was very important the pictures in my book could be simple enough for a child to recreate.
Snickers
Snickers came to live with us on Groundhog's Day in 2006 when he was four months old. He is a mix of a Chihuahua and a Rat Terrier, affectionately referred to as a Chih-A-Rat. This fifteen pound dog is full of energy. He loves to play with his stuffed animals, go for walks, and sleep in the sun.  I love saying his special words (walk & dinner) and watching his over-sized ears stand up. Snickers is a fantastic dog!